I do a lot of listening to music (on Spotify), but not so much to live radio and even less to factual radio. Listening to podcasts is something I generally don't do and so this part of the course feels like a great opportunity for me to think about audio storytelling techniques and be a learner.
The examples we were given to choose from all originate within the American public radio system. Feeling the need to gain as much experience in this area, I went beyond the minimum listening requirements and chose one example from each production context: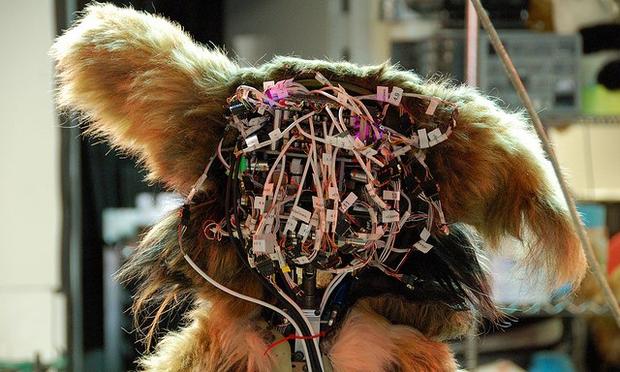 Wire head (paul+photos=moody/flickr)
Stylistically, it is striking that both the Radiolab and This American Life episodes take an approach that is heavily produced. We would expect  that of fiction where a range of techniques might be used to bring the story to life such as music and sound design, but if anything, these documentary series use a greater range of techniques than typical of fiction. This is because their approach to documentary is to try to tell stories (such as with reference to 'acts' of a play) so that the factual information is conveyed to the audience in an engaging manner.
Both 'Doppelgängers' and 'Talking to Machines' use similar formats and techniques such as a prologue. In'Doppelgängers', the prologue raises the theme of doubles in a comedic way by having the host presenter (Ira Glass) 'doubled' by an impersonator who mimics his voice and sometimes repeats his words. The dialogue between them is jokey and self-aware about the structure of the show. The audio is layered with occasional music, presenter voiceover, conversation, reporter voiceover, recordings-in-recordings, ambient sound and sound effects. The music creates different moods helping to read the turns of the narrative. The two parts of the programme have very different moods – the first has more humour, investigating the possibility that pig rectum or 'pork bung' might be used as 'imitation calimari', while the second part adopts a more serious tone to 'double' two men caught up in different traumatic life experiences – war and inner city drug culture. Technically, it is effective storytelling, but the two acts of the theme didn't sit comfortably together from my perspective.
'Talking to Machines' uses similar techniques to the 'Doppelgängers' episode and is very effective in putting together a number of stories sustained for an hour on the theme of our relationship to sentient machines. Actors read found material, music is used to underscore mood, multiple voices are layered and I particualrly liked the way that there was quite a distinctive effect of continuity achieved when moving between the host presenters and the pre-recorded contributors and guests.
The short audio drama 'The Modern Prometheus' is by coincidence also on the theme of sentient machines. It uses music, sound effects and actors perfroming dialogue, as you would expect from radio drama. Sound effects are used to alter the actor's human voice to sound like it might be the artificial voice of a talking computer. Characters speaking on the telephone sound like they are on the phone and so on – it does what good  audio drama should do and create a realism that allows the story to unfold in a believable way, as if you overhearing what is going on.